Why read with Faithlife Ebooks?
Bring the Word into your ebooks.
Just tap a Bible reference in an ebook and see it in your preferred translation without leaving your book. Or open your Bible and read it in context right alongside your book.
Enjoy reading time anywhere.
You can read Faithlife ebooks on any device. It's a virtual Christian bookshelf that goes where you go.
Find what you're looking for.
Find quotes, passages, authors, books, and more in seconds with our powerful search tool. No more dog-eared pages or misplaced bookmarks.
Highlight, share, and take notes.
Mark up your ebooks with notes and highlights. Plus, it's easy to select and copy text so you can share quotes or passages on social media.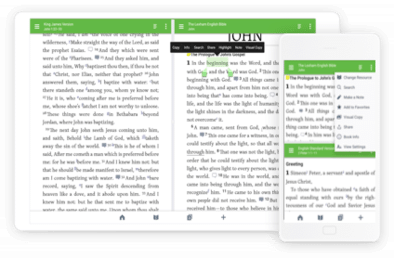 Benefits for Logos users
Faithlife Ebooks is made by the same people who brought you Logos Bible Software. That means you can read your Logos resources inside the Faithlife Ebooks app, and vice versa. Some Logos features are limited to the Logos app, but you can always access all your ebooks and Logos resources in either app.